Your profile picture is how your friends and colleagues will identify and connect your avatar with the real you. So, we strongly recommend that you use a good, clear and current picture of yourself. There are two ways to add or change your profile image (and your other information details).
During the login process
Before you enter the Slidefair virtual world, you will be given the opportunity to update your information.
This page appears after the system checks your credentials, microphone access and camera settings.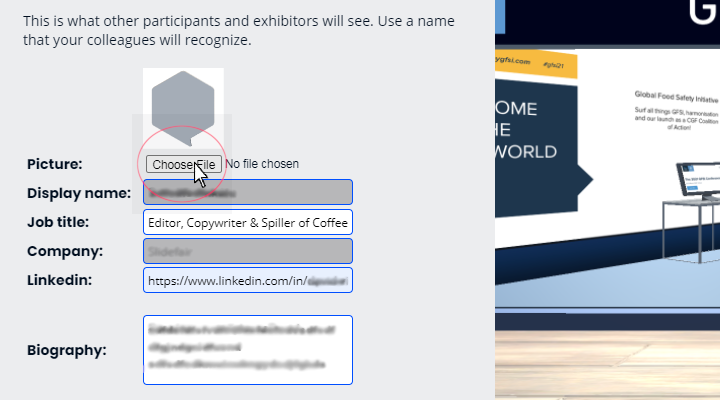 Below the hexagon shape, you will see the field 'Picture:'

Click the 'Choose file' button below it, which will open your file explorer . Once you have found the image you would like to use, select it and click 'Open' to upload the file to Slidefair.
The information you provide here is visible to other attendees and will also be available on your virtual business card.
Editing your profile picture in the platform
In the top menu bar, on the top right corner of the screen, you will see your name in a button and a small downward arrow. Click on your name to access your personal profile.
This will open a drop down menu, from there, select edit profile to open up a screen similar to the "Your Information" screen on log in.