You can easily change or add information about yourself in Slidefair.
Please note that all information you provide, including your name, LinkedIn profile link and Bio, are visible to other attendees. So do not add anything to your profile that you would not like to make available.

Your information can be added or changed in two main ways:
Adding your information during the login process
You have the opportunity to update your information before you enter our virtual world. This page appears after the system checks your credentials, microphone access and camera settings.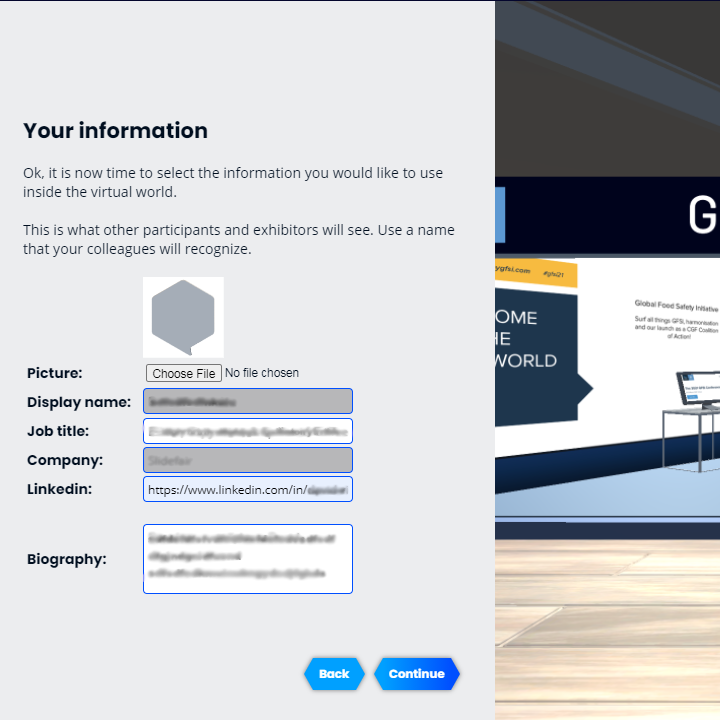 This page gives you the opportunity to update your name, Job title, the company you work for or represent, your LinkedIn profile link and a short biography about yourself.
This is also the perfect opportunity to make yourself easier to recognise with a profile picture. The information you provide here will be visible to others on the platform and will also be available on your virtual business card.
When you have filled in the information to your liking, click continue and enter the virtual platform.
While on the platform
In the top menu bar, on the top right corner of the screen, you will see your name in a button and a small downward arrow. Click on your name to access your personal profile.
This will open a drop down menu, from there, select edit profile to open up a screen similar to the "Your Information" screen on log in.