Are you thinking about using Slidefair to host your next event?
We realise that with a new system, you aren't always sure what you need to make your event into the best possible version of itself.
In this guide, we will help you with what you need to know about your event to help us bring out its full potential.
The following steps will help you decide which which package is right for you, and whether you should add extras to your quotation. So please follow them. if you are unsure about anything, feel free to contact us directly for more info or a demonstration.
Your name and the company you represent
Although this may seem like basic information, it is important to consider what features we can offer to make your event stand out, like branding and sponsorship visibility opportunities.
Event name
Your event should be consistent with the company's brand, but perhaps with a little twist to help it stand out. When people think of your event, what comes to mind?
Date(s) of your event
When will you be hosting your event and how long will it last?
Number of Attendees
The closer your estimate is to the total number of attendees, the more accurate your quotation will be. Slidefair allows you to add attendees to your quotation, at the standard rate, until the last month before the event.

After that, we charge using a late sign up rate until the platform is delivered to the client, which is usually a few days before the event. This allows organisers and speakers to get used to the platform.

After the platform is delivered, we cannot add more attendees to the system, unless they fall within the agreed upon (quoted) maximum limit. This is so that we have time to prepare enough servers and resources to host the event smoothly ahead of time, without compromising other events.
Repeat events
Is your event a once-off or are you likely to have repeats of this event?
While it will not influence the quotation for your first/pilot event, it will greatly influence the cost calculation for any follow up or repeat events you will be hosting. A large portion of the Slidefair platform cost is allocated for set-up and customisation of your virtual 3D world. If the event world that is customised for your event can be directly reused for repeat events, the cost of repeat events will be greatly discounted, as no further set up or customisation will be required.
How many auditorium/Break-out rooms do you need?
This will depend on the schedule/calendar of your event. As with physical events, auditoriums and break-out rooms can only be be used for one session at a time.
The type of auditorium used for each session will depend on your requirements for that session. Are you only looking for the functionality similar that of Zoom? Perhaps you would prefer additional functionality such as social media integration (like a twitter wall feed), poll posting or small group discussion capabilities, without disturbing other groups or the speaker? Again, if you would like to discuss more in depth how we can tailor your event to fit your needs, please get in touch with us!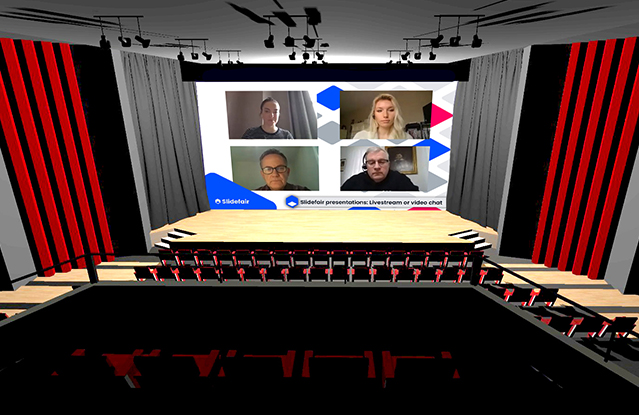 Sponsorship
Does your event have sponsors? If so, how many, and what level of exposure do they require?

The Slidefair platform has customisable banners and walls to display Sponsors' logos and other documentation. Choose the Sponsorship package that fits your needs. If you are feeling uncertain which package that is, please feel free to contact us directly to discuss your requirements and the options available.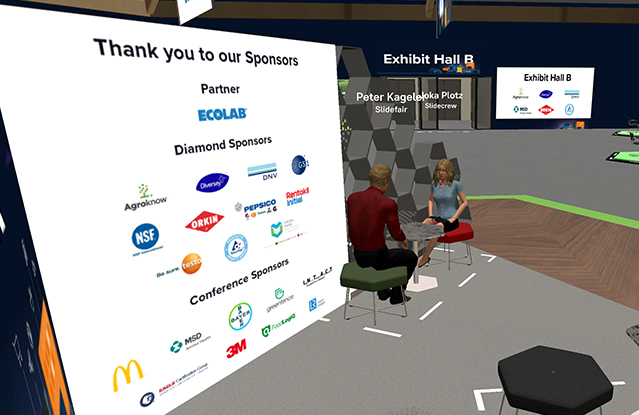 Exhibitors
Will there be exhibitors at your event? Slidefair has developed a unique way of integrating Exhibitor booths to virtual conferencing. The booths are located within Exhibition halls, containing up to 6 large booths, 12 small booths or a combination thereof. The centre of each exhibition hall can also be customised, but is typically used for networking areas. The booths are available in multiple sizes and layouts and are fully customisable using our Booth Creator application.

Exhibition booths allow for people and companies an opportunity to interact with attendees more directly, either publicly within the booth space (an open voice chat room) or privately in the lockable meeting room attached to each booth.
As meeting rooms are more private, they also have video chat and screen sharing functionality.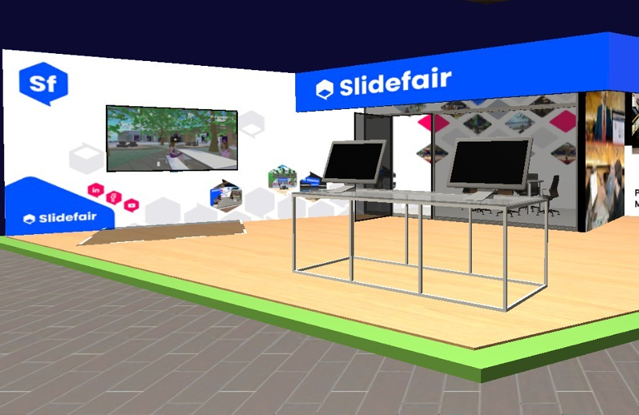 Social media integration
Would you like to integrate your twitter feed into the platform? Or would you be like to stream live sessions to your facebook page?

Slidefair can integrate a number of social media platforms, so if your preferred platform is not visible in the quotation options, please contact us directly to discuss this. We pride ourselves on our flexibility and customisation abilities, so we always want to know what we can do for you.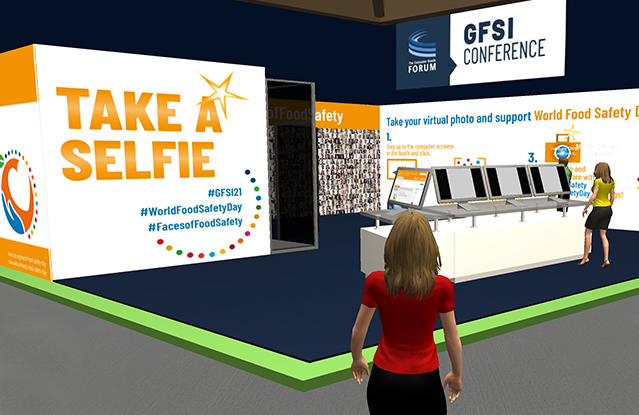 Live streaming
Would you like to live stream your sessions to a large or small group of attendees? We have extensive experience in live streaming events, either directly through Slidefair, or integrating other platforms like vimeo, and can cater to your requirements.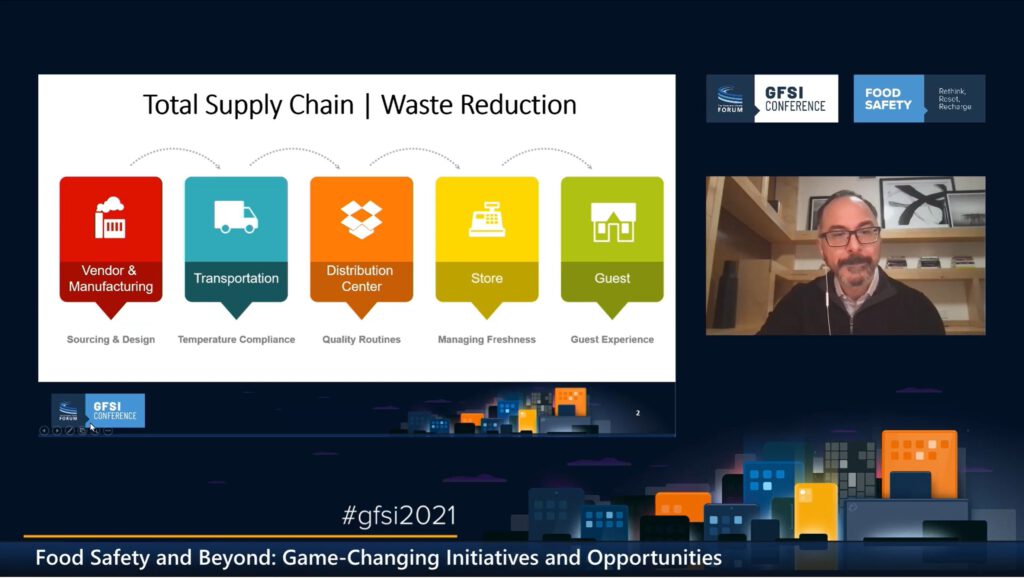 Networking areas
We built Slidefair around the idea of promoting networking opportunities. Each of the packages available include networking possibilities. However, the specifics, like the number of networking areas and the types of networking possibilities is up to you. For example, we can place benches in the courtyard (where attendees load into the world), entrance hall and other rooms as required. The benches have text and voice chat capabilities.
The reception or bar area is usually placed within the entrance hall, and is a group messaging and voice chat area. Networking tables are areas where 4-6 people, depending on table design, can come together for messaging, voice or video chat and screen sharing. Tables can either be left open for any person to join the conversation or locked for privacy. Meeting rooms, separate from those attached to exhibition booths can be provided on special request. These meeting rooms can either be used by set individuals or made available to all attendees requiring a more private place to hold a meeting.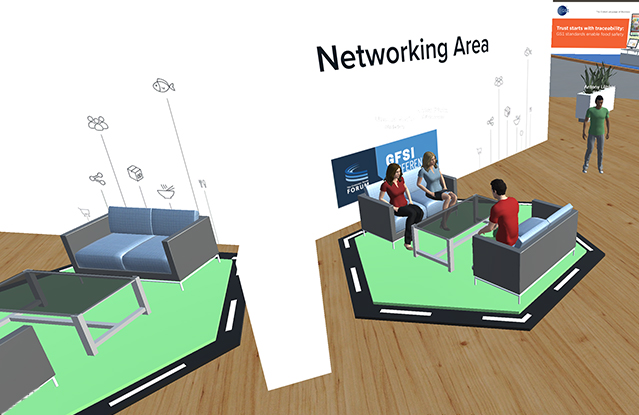 Video on Demand
Would you like past sessions to be viewable to attendees from within the platform? Slidefair offers the option of making recorded sessions available directly within the platform after editing has been completed and the session uploaded on a compatible platform, typically (but not exclusively) Slidefair's Vimeo account.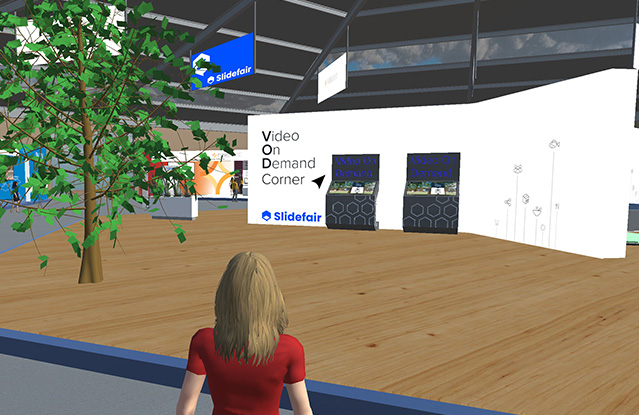 E-posters
Would you like E-posters to be available within the platform? We can provide E-poster kiosks within the platform with an integrated E-poster system. This allows for attendees to view E-posters at their leisure or with a moderator, depending on your requirements.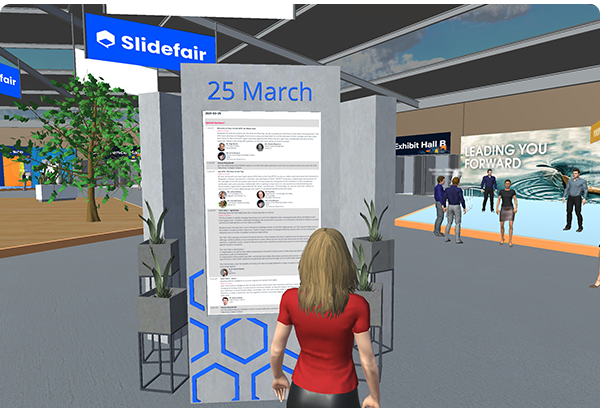 Technical support
Do you think you will need technical support during your event? We strongly advise at least one person from Slidefair for medium and large events. We usually assign this person to the Help Desk.
If your event is large or you think you will require additional support for speakers, live-streaming technicians or technical support for organisers, please let us know.
Once you have considered all these options, please go to the Pricing Page, select your package and add any extras. After that, click the "Get Quote" button and fill in your details. You will be able to download your quote and we will be notified that you have requested a quotation.
The next step is to discuss the specifics of your event requirements with us in a meeting, as we begin building your virtual 3D world only after signing the contract.
You can download the specifications of customisable areas here:
We keep you updated as we build your virtual 3D event world with meetings and walk throughs.. This is a very exciting process for us, and we are open to new ideas and further customisations, so please feel free to discuss them with us!