Do you want to know more about being an exhibitor at a Slidefair event? Whether you are a registered exhibitor or are just curious, you're in the right place!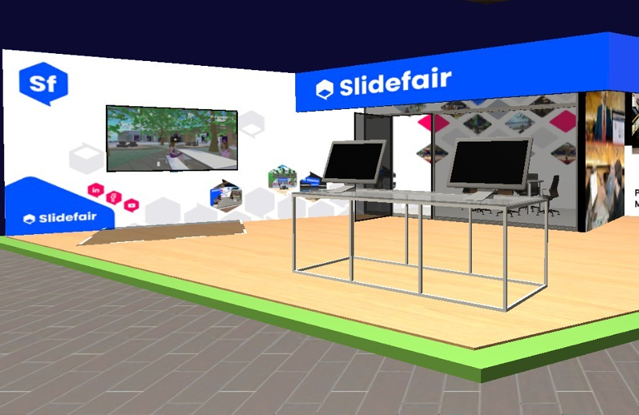 All exhibitors have to register with the organisers of the event directly, as Slidefair cannot do this.
Booth types and specifications
If you have already registered to be an exhibitor, then you will likely have a selection of booth types. These fall into three main options:
For more details, you can download the Exhibition booth specifications here.
Exhibition halls are hexagonal, typically have a central networking area, surrounded by either 6 large booths or 12 small booths (or a combination), as shown below.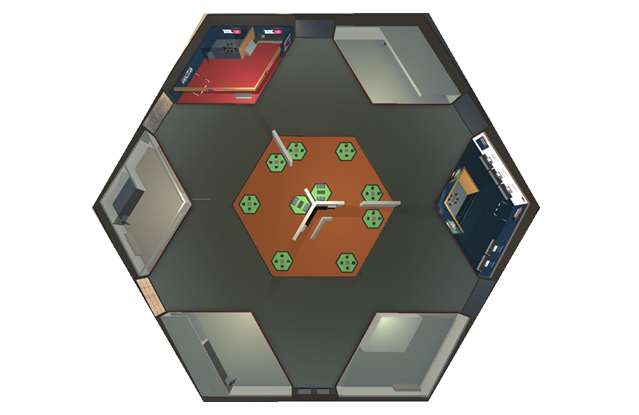 This is a typical layout for an exhibition hall. The exact layout and customisation of each is based on the organiser's requirements.
Organisers decide on the number and type of exhibition booths available to exhibitors, through their choice of exhibition hall(s) at the event. Please check with your event organiser to determine what is available to you.
Booth customisation
Exhibitors and organisers can customise their own booths using our Booth Creator tool, developed in house. When it is time for the build, we directly import your specifications and documents into the 3D world. Whether the organisers choose allow exhibitors to use this tool or do it themselves is completely up to them.
The Booth Creator allows you to choose your layout, assign colours or pre-designed images to walls and place objects, including:
Desks – with a choice of design, length and placement
Pot plants – aesthetic
Wall screens – Assigned video media
Pdf stands – several design options, which can be assigned custom pdf documents
Computer screens – Placed on desks and assigned media or a website url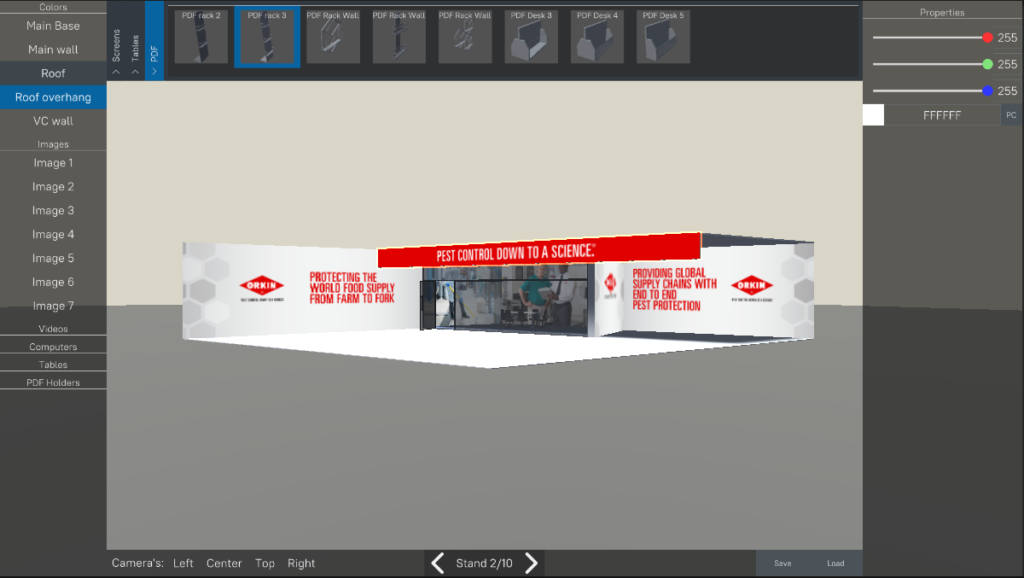 If the event organisers choose to handle booth creation for exhibitors, we recommend exhibitors contact them as soon as possible. Please consult with the event designer and provide the assets required for booth design well ahead of the start of event.
Please note that during the event, your exhibition booth will need company staff to be present. We recommend that exhibitors to have at least 2 people available at each booth to converse with attendees, and another for more private, in-depth conversations in the booth's meeting room. However, this is only a suggestion, and companies can allocate resources as they prefer.