Registration and logging in
How can I enter the portal? 

You should have received a link from the registration system. Please keep that link safe, as it is your only way of logging in. Consider creating a bookmark for the duration of the event.

If you did not receive one, please contact the event organisers to ensure your registration was completed successfully.
If you have the email with the link, follow the instructions to get into the platform. For more details, take a look at our Getting Started: Logging in page.
 Registration vs logging in

Event organisers handle registration. They provide Slidefair with the attendee's email address for the purpose of account creation only.
You will receive an email with a link to the platform and your password. Follow the link to open the portal, then log in using your email address and the password provided.
Find more about logging in here.
I clicked on the 'back' arrow on my browser and went out of the portal. How can I enter again?

Unfortunately, you will need the go through the login process again. In order to protect user information, we do not have a 'stay logged in' option for the platform. To remain on the platform, the browser tab must stay open. Please locate the event platform link and log into the system again. Please note that this process can be time-consuming.
I can not login because my password and email do not match.

Try resetting your password by following these steps.
If you are still unable to log in, please contact the event organisers to ensure that you have been registered successfully.
Technical difficulties
I am having trouble with things loading on the platform

Please check your internet connection. It is possible that your connection is poor, your internet speed is low, or you are experiencing large packet losses. If your internet speed is too low the system will take a long time to download, please be patient. If you are connected via wifi, we suggest switching to a wired connection.
We recommend turning off any VPN services you are using.
If your internet is not the problem, please check that your PC meets the system requirements
I am having trouble getting my webcam to work
I am having trouble with my microphone or audio

Please follow the steps on the Audio page of the FAQ
I have tried the steps above, and still have issues

Please contact your IT department or contact a Slidefair technician by clicking the "Help" button in the top menu.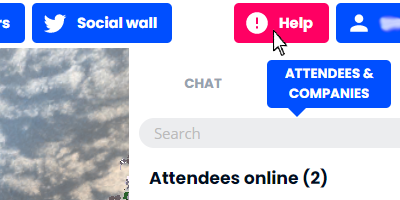 Please note that the Help Desk button is only available after logging in. If you are still having trouble logging in, please contact your IT department or the event organisers.